A Complete System To
Learn The Piano…Guaranteed.
Welcome to HomeSchoolPiano.
HomeSchoolPiano teaches all levels, even absolute beginners how to play the piano.
The easy-to-follow video lessons, along with the on-screen virtual keyboard and step-by-step written music make it easy for everyone to learn.
Built on solid methodology that integrates throughout all 18 units, the rhythms and technique that you learn at the beginning of each unit carry over into the reading, song and improvisation learned later on. Can't read music? No problem, you'll learn that too!
With HomeSchoolPiano you'll become a total musician, being equally at ease reading music or composing your own songs.
Individual reporting and access for up to 6 people means the entire family can learn how to play the piano, all from the comfort of your home. Or, access the lessons from any smart phone or tablet while on the go.
HomeSchoolPiano is the easiest way to learn piano online.
Perfect for ALL Levels of Piano Players…
HomeSchoolPiano has been designed to teach even absolute beginners how to play the piano. Built on solid methodology that integrates throughout all 18 units, the rhythms and technique that you learn at the beginning of each unit carry over into the reading, song and improvisation learned later in the unit.
This method is important because it gives you the opportunity to "get it" later in the cycle. If you miss something at the beginning of the unit, it will be presented again later for review.
Developing Musicians, Not Just Pianists!
HomeSchoolPiano is different than other piano methods because we focus on developing the entire musician. Far too often students learn only to read music and their musical ear suffers. HomeSchoolPiano develops the ear, reading and compositional skills of each student equally which makes them a better pianist and a full musician.
Students access all of the HomeSchoolPiano content directly through our website. The program is divided into three "books" which are PDF files that you can download and print. Each book is further divided into 6 units. Each unit contains a lesson on:
Technique – where you'll learn how to play faster and more accurately
Rhythm – think you have bad rhythm? You won't after these lessons!
Ear Training – train your ear to hear melodies, rhythms and chords with ease
Reading – learn how to read music faster and learn how to create your own accompaniments using techniques I've learned from years of training
Song – learn to play really fun songs that are catchy and turn heads
Improvisation – unlock your creative side and create your own music
Bonus – each unit includes an extra bonus section for students to learn advanced techniques. This is particularly useful for advanced students
Each unit is about 60- to 80-minutes of video lessons. It takes most students 2-3 years to complete the entire system.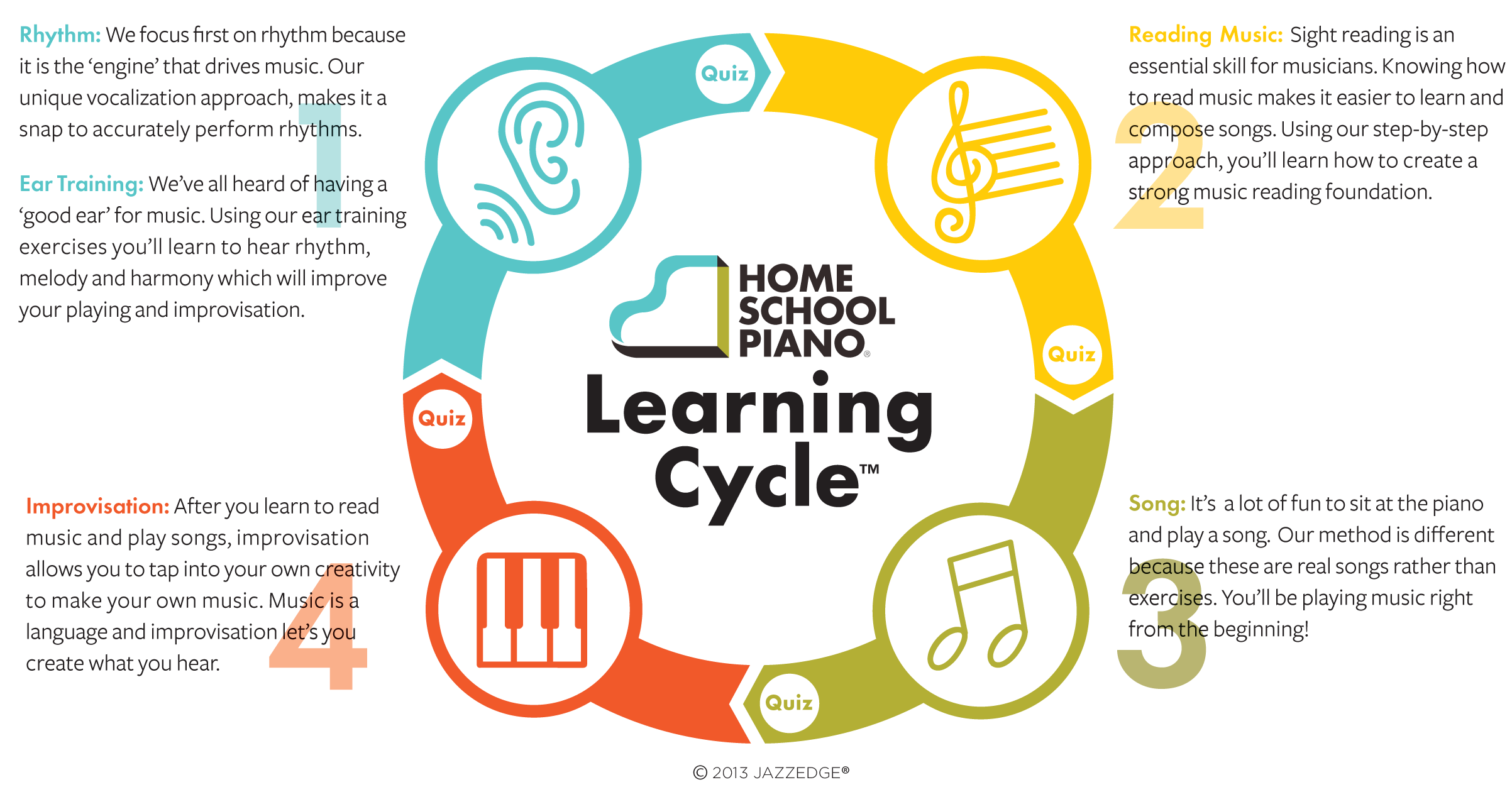 With today's technology, I realized I could use video and the web to deliver my lessons to students and help them learn the piano from home. Since HomeSchoolPiano lessons are all video-based (this means you see your teacher in the video) students are able to learn more effectively than by using software.
HomeSchoolPiano adapts to how the student learns. If the student is in 'drive mode' and is excited about learning, they don't have to wait till the next lesson to move forward. The videos and quizzes are ready for them at any time.
However, if the student is busy with other activities, vacationing or core academics need more attention right now, no problem. The lessons are always there waiting for them to return. Best of all students can login from anywhere.
Every time a student logs in at HomeSchoolPiano, they can see exactly where they left off. Wether it be a day or a week, the student can always pick up exactly where they left off.
Going on vacation? No problem! There is no private lesson to cancel, no bill to pay.
Find you learn best at 7am? No problem! Since the lessons are always available, always waiting for you, you can learn any time of day or night.
Worried about needing special equipment? I'm happy to say you don't need any! The HomeSchoolPiano program works perfectly with any computer (including tablets) and any piano or keyboard is fine.
Convenient and Cost Effective
Private piano lessons can get expensive. On average, it costs $99 per-month for private piano lessons. HomeSchoolPiano gives you 2-3 years of video-based lessons which would cost upwards of $2,376 with a private teacher. Multiply this by more than one student per household and it can be costly.
We are strong supporters of private piano teachers. However, we know that the time and cost involved with private instruction does not always fit into a family's budget. HomeSchoolPiano gives you the freedom to learn at any time of day or night from the comfort of your home. Best of all, you get to go at your own pace.
Often students feel embarrassed or nervous playing in front of their teacher. Our lessons remove this barrier to learning by making the lessons fun and engaging without being stressful. Need to see something played for the 100th time? No problem, just rewind and play it again!
Our virtual keyboard makes seeing what is being played a snap. You will see every single note played light up along with the note name right above the piano keyboard.
We all love this program! In the short time we have been using it, my girls have gone from pecking at keys, to playing with both hands. They are learning to "hear" the notes, read music and more. I would gladly pay for this again and again. I have shared this with several friends, homeschoolers and those who send their kids to public school.
Stephanie B.
My children 10 and 7 have been online for more than a year learning piano from different teachers but never able to play anything. Now they are able to play few songs, sometimes they can play without even music notes. They really like you and the ways you teach. Which is so different from others we have tried. Once we finish this free course, we are going to sign up for a full course!
Norma
Lifetime
You own the program for life

Includes individual transcripts and accounts for up to 5 additional students

No recurring charges, pay only once

You can download all material (including videos) after purchase
Monthly
Full access to book 1 on signup, new books added every 30 days

Includes individual transcripts and accounts for up to 5 additional students

Unlimited streaming of the lessons on any Internet-enabled device

Full access to all sheet music and tracks

Includes all Bonus Material

30-Day Money-Back Guarantee
Institutions
Schools, Churches, Facilities
Please contact us at (401) 331-0000 for more information and pricing

Volume discounts are available for institutions that wish to have their entire class participate in the lessons

Transcripts and progress tracking of each student
The only way for you to tap into your piano greatness is if you are excited and energized to play the piano. So, if you need any help, contact us at 401-331-0000 or via email at support@homeschoolpiano.com and we are here to help you!
If you have been putting off learning the piano or you've been looking for that system that will really unlock the music within, I encourage you to take a look at HomeSchoolPiano.
If you're not completely satisfied with the program, contact us within 30-days for a full, no-questions-asked, refund.
This program is for anyone who wants to be successful at the piano. Kids…or adults!